2017 Sale Horses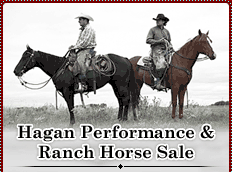 In conjunction with the
Manitoba Ag Ex

October 27th, 2018

We will have 10 horses in this year's sale.
Performance Preview
1 pm - Westman place arena
Sale Time
4:30 pm sales ring- Kingsmen arena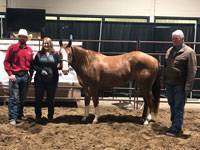 This year's top seller was Thomas & Felicity's horse Oscar. He was purchased by Susan & George Friesen of Brandon MB. In the picture from left to right is Thomas Hagan, Susan Friesen and George Friesen.
2018 Sale Results
Oscar - $10,750.00
Susan & George Friesen, Brandon, MD
Apollo - $9,000.00
Ryan Stolson, Hodgeville, SK
John - $8,250.00
Joanna Holness, Kamloops, BC
Lynx - $6,000.00
Janet Moen, Stewart Valley, SK
Biscuit - $8,000.00
Mike & Sarah French, Langley, BC
Angus - $7,000.00
Sonny Clearsky, Waywayseecappo, MB
Shorty - $8,500.00
Greg Lane, San Clara, MB
Arnie - $6,000.00
Jane Corey, Swift Current, SK
Jr - $6,000.00
Dallas & Carrie Spencer, Estevan, SK
Thank you once again to all of our buyers and everyone that helped out to make it another successful sale!!!!

Hagan's Performance & Ranch Horse Sale
October 27th, 2018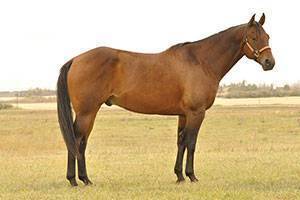 MARKY MARC 15.1 HH
7 year old bay gelding
Owned by Alistair & Erin
Marky Mark and the funky bunch; what no one remembers the 90's?  This baby dolled headed bay gelding is a true find; he can go from babysitter mode with his little two beat lope to serious ranch horse in the same day. Marky Mark truly has the ability to ride up or down depending on the level of rider on his back that day. We were extremely lucky to get the opportunity to buy this gelding from our friend Mark Fraser and he was exactly what Mark said he was. Marky Mark has become soft in the bridle, moves off your leg, picks up his leads, stops and could easily be shown in some small ranch horse classes or fairs. As a ranch horse he is awesome in the branding pen, very eager to run one down to treat and is as strong as any horse I've rode working rope (pulling while he backs). When Erin and Harley entered me in the "man's Barrel race" Mark was my mount of choice. He truly has so much to offer for such a young gelding and he is absolutely gorgeous! Everyone who rides him comments on how cute his ears are.  He is a nice ranch horse but I believe he would also make an outstanding head horse if he went to the arena for the winter or he could go back to the gymkhana arena as well, barrels, poles, key hole and a simple reining pattern. One horse; many directions to go and a lot of years to do so.  

| | | |
| --- | --- | --- |
| | | White Lighting Ike |
| | Ikes Double Drift | |
| | | Dianes Cold Nose |
| IKES BLACK DRIFTER | | |
| | | Lindsay Peake |
| | Kassie Peake | |
| | | Little Elly Docbar |
| | | |
| | | |
| | | |
| | | Major Holiday |
| | Jae Major Dun | |
| | | Flicks Patsy Poco |
| JAES KANDI KISSESS | | |
| | | RR King Dandy |
| | RR Dandy Kandi | |
| | | Skips Kandi Lynn |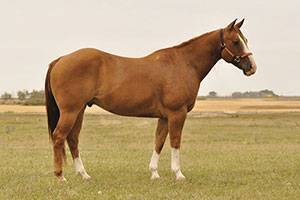 Oscar 14 HH
8 year old red dun gelding
Owned by Thomas & Felicity
Oscar is a heelers dream and the smallest ranch horse I have ever owned, but I did not know that until I measured him. This horse is strong, athletic, broke and has a lot of talent. This is a one handed ranch horse deluxe. Once again this summer I did about 90% of my riding by myself, generally a few miles from the house. I have zero ambition to ride a horse in this situation that isn't safe, but Oscar certainly made that cut. The ranch is 3200 acres and I have covered every inch on him and Biscuit this year. We ran three herds this summer and stayed committed to moving them to new grass every 1-4 days. Almost everyday these horses and I have perimeter fence to check, temporary wire to set up and take down, cattle to treat, mineral tubs to drag to the next paddock and lots of miles to put on in the process. We cross bridges, ride through bog and dugouts, navigate mole hills and deadfall and see all kinds of wildlife jump up in any direction around us. Oscar has been an absolute treat to use in this system. He is broke, broke, broke. He is extremely cowy and loves nothing more than running one down to rope or cutting a few back in a pen. Having some pinkeye problems in our calves this year, Oscar got the call to sneak loop them or run them down, ty off and allow me to doctor them. He has a beautiful neck rein and tons of feel, he can spin, stop and lope a great circle. We went to quite a few branding this year and this guy is a Cadillac in the pen. Oscar is talented and done enough jobs that anyone wanting to take him to the arena would be able to do so pretty quickly. We roped the heel-o-matic and played around with him in the box some, just enough to know he has tons of potential. With summers being to busy at the ranch, I wasn't able to put the time in on the heeling end, but with the talent and experiences this horse has, it will come together quick! To get a good look at Oscar check out his video as it speaks volumes about how broke he is.

| | | |
| --- | --- | --- |
| | | Peppy San Badger |
| | Camiseta Badger | |
| | | Camiseta |
| QUIX DRY BADGER | | |
| | | Dry Doc |
| | MS Dry Quixote | |
| | | Hosienta Quixote |
| | | |
| | | |
| | | |
| | | Doc O Dude |
| | Doc Otoes Dude | |
| | | Otoes Doolin Dolly |
| FANCY DOCS DUDE | | |
| | | Blue Ridge Tivio |
| | Questions Best | |
| | | Question Bar |
John 15 HH
11 year old palimino gelding
Owned by Shawne & Jocelyn
Dad is happy to be back! It is worth noting that he wouldn't be back it if was not for this awesome dapple palomino gelding.  Dad took a year off from the sale in 2017 simply because it is so hard to find geldings that are safe enough to put in his program. Dad has been trying to buy John now for 3 years and finally got it done last fall. In Dad's words "John is easy to hit the stirrup on, very safe, tough enough to go all day and damn broke." John was a flag horse on a drill team in his past life that hadn't been ridden much in the past few years. He has now become a nice ranch horse; he is cowy, tough, walks out and happy to take the odd moment to stand still. One of John's best quality's is that he will stand still while you mount and for as long as you wish afterwards, not only is he quiet and easy to hit the stirrup on but he is also stout enough and strong enough on the horn to take a little pull while you get on. While dad enjoys how quiet John is, he is most proud of the fact that he can keep up with the rest of the boys and loves to get in the game when running one out to treat. John is quiet, safe and suited for the older generation but also would make any "30 year old" cowboy a great mount. He lopes a nice circle, picks up his leads, listens to your hands and watches a cow! Dad is happy to be back and if he can keep finding "John's" he'll be back for years to come. We feel that alone should tell you; you had better not pass him up yourself.

| | | |
| --- | --- | --- |
| | | Mr Blackburn 49 |
| | Agile Blackburn | |
| | | Sporty Digger |
| APACHE GOLD RUSH | | |
| | | Apache Trouble |
| | Apaches Light Pepper | |
| | | Peppermint Squaw |
| | | |
| | | |
| | | |
| | | King Of The Tigers |
| | Tiger Safari | |
| | | Skip Til Mary |
| SQ SAFARI KITTEN | | |
| | | Kansas Cat Twist |
| | Kansas Cat Miss | |
| | | Vel Reed |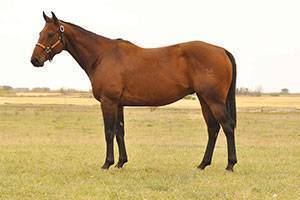 Shorty 15.3 HH
5 year old bay gelding
Owned by Alistair & Erin
Shorty is Western Fortunes, Naeric and CBHI enrolled
Shorty affectionately named because he has never been small! We bought Shorty as a baby from the Barrels of Cash sale from our friends the Bridgeman family (Kevin, Julie and Justin). He is by their premier running bred stallion "Secret Zoom" and one look at Shorty's pedigree and you'll see he is a true run on cow cross. This dude is big, strong and can flat ass fly; either in the barrel patch or out on the range. Erin has been hauling Shorty to jackpots all summer and will be running him in the Barrels of Cash barrel futurity the day before the sale.  Shorty is a nicely started barrel horse, he is putting fast runs together and Erin truly feels will be a winner in the barrel pen for years to come if someone continues on with the work she has put into him. If it's a big free moving, ground covering; go all day ranch horse you are looking for? That's Shorty too! One day while roping yearling bulls to castrate them I ran one through trying to head him, when the smoke cleared I had two feet and Shorty just drug him to the crew like a calf at a branding! I guess sometimes size does matter? Everywhere we go people tell us the horses are just too small these days, that there are no big horses left. Well not only is Shorty damn near 16 hands but he is also an athlete and just plain fun to ride. Like the old saying "If a good little horse is good then a good big horse is better". Shorty exemplifies all of the good things about a big horse; he is smooth moving, ground covering, fast and strong. Shorty is also CBHI and Western Fortunes enrolled so not only is he a horse you can take home and run barrels on but also one that will keep winning you bonus cheques for years to come. Barrel horse/ranch horse combo with his whole life a head of him.

| | | |
| --- | --- | --- |
| | | Takin On The Cash |
| | Shazoom | |
| | | Keep On Shining |
| SECRET ZOOM | | |
| | | Jody O Toole |
| | Mexican Secret | |
| | | Runaway Secret |
| | | |
| | | |
| | | |
| | | Peppy Badge Olena |
| | JU N Badge | |
| | | Pamela Jujos Joy |
| OKS DAKOTA BADGER | | |
| | | Dakota Doc Mose |
| | Wawopa Super Good | |
| | | Wakopa Super Three |
Angus 15.1 HH
9 year old black gelding
Owned by Alistair & Erin
Angus is our first attempt at the "mountain" horse market. Named for the Hero's Shire horse in the "Disney movie Brave"; Angus is as full of character as he is feed (and he is an easy keeper). The kids tell me it's not fair to call him fat but we'll just say it would hurt more than most horses if he stood on your foot! He is safe as they come, strong as they get and black with a white face. These qualities alone make him a rare find. We pride ourselves in treating each horse as the individual they are and giving them each the jobs that best suits their individual qualities. Angus is our "linebacker" and so has taken on the jobs that suit him; be it gathering horses, ponying colts, branding etc, any jobs that utilize his laid back nature and raw strength. When ponying colts across the field not only is he strong enough to take the pulling but also steady and calm enough out and about to help the colts relax as well. In the branding pen Angus is quiet in the heard and extremely strong on the horn.  Angus is a very nice trail horse, stout but not too tall, easy to hit the stirrup on, brave and alert, comfortable in the herd, keeps up at a walk and trot and simply will not break down (we also have him trained to the mounting block). If you are looking for a strong, quiet, flashy gelding that will last you for years or just that one horse in your pasture who adds some comical relief to your day; come meet Angus.
Lynx
2 year old palomino colt gelding
Owned by Alistair & Erin
This outstanding yellow gelding represents a cross that works, he is by Merri and out of "Bailey" a yellow mare we rode for years. Lynx is a full brother to (Joy Kent-Bamber  6 year old yellow gelding "Ruger" a finished 1D barrel horse, Erin's 4 year old Futurity prospect "Stinker" as well as Julie Leggett's 3 year old buckskin gelding "Whiskey"). Erin says that "Stinker is her favorite Merri baby to date, maybe her favorite horse she has ever worked with". Julie Leggett says; "I absolutely love my 3 year old "Whiskey"; I have so much hope for him in the next few years. I can't believe how far along he is for as young as he is. Whiskey just moves so nice and smooth and is so smart. Honestly Whiskey has the sweetest disposition of any horse I ve ever been around." Literally every colt this mare has ever had (all by Merri) has been ridden and loved by their owners & trainers. For a program as young as ours this is a fact we are very proud of and we are proud to offer this correct, flashy gelding for sale. He is CBHI, Western Fortunes and Hagan $5,000 incentive enrolled.

| | | |
| --- | --- | --- |
| | | Streakin Six |
| | A Streak of Fling | |
| | | Moon Fling |
| BF STREAKIN MERRIDOC | | |
| | | Merridoc |
| | Winnsboro | |
| | | Woodsboro |
| | | |
| | | |
| | | |
| | | Blynx |
| | Perrins Tivio Doc | |
| | | Perrin's Two Jack |
| BAILEYS TINY CHARGER | | |
| | | Pac It Easy |
| | Pacs Alibi | |
| | | Steamed Up Lady |
Arnie
2 year old black colt gelding
Owned by Alistair & Erin
This black gelding also represents a cross that works. His mother's first foal by Merri was selected by Erin's mentor multiple NFR qualifier and horse trainer Judy Myllymaki. "Sister" now a 7 year old finished 1D money earning  barrel horse.  He like all of his siblings will be big and docile. He is a little laid back but very trainable. Horse business is a gamble. Here's a chance to place your bet; why not bet on a young gelding, already started, already enrolled in the 2 biggest incentive programs in Canada and out of cross that works on high level. He is also CBHI, Western Fortunes and Hagans $5,000 incentive enrolled.
Sister

| | | |
| --- | --- | --- |
| | | Streakin Six |
| | A Streak of Fling | |
| | | Moon Fling |
| BF STREAKIN MERRIDOC | | |
| | | Merridoc |
| | Winnsboro | |
| | | Woodsboro |
| | | |
| | | |
| | | |
| | | Moon Lark |
| | Kits Moon Shadow | |
| | | Kitsoease |
| KITS DASHING VAL | | |
| | | Dashing Val |
| | Sinsa | |
| | | Sinsa Shanal |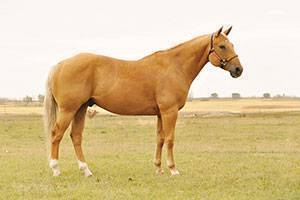 Biscuit 15 HH
10 year old palomino gelding
Owned by Thomas & Felicity
A beautiful, kind, athletic, yellow palomino ranch gelding named Biscuit. This horse has seen every inch of our ranch this summer, rotating, treating and checking cattle. Riding by myself most of the time, I need to have a horse under me that is safe and can get the job done. Crossing bridges, riding through bush, wadding into dugouts, navigating over deadfall and seeing all kinds of wildlife along the trail is a typical day around this ranch. Biscuit has a good neck rein and lots of feel, he trots or lopes off nice and is easy to go for big rides on. I have treated more cattle on Biscuit this year than Oscar because being 15hh he is a little better suited to handle bigger cattle. We had a fair bit of pinkeye this summer and he helped me keep on top of it. As I said I do a lot of my riding by myself so I was able to rope a cow, ty off and treat alone. Biscuit is really good at running one down in the pasture and could have a big future as a head horse. This horse does have one hole and that is that he doesn't like cattle behind him or to be in the middle of a big herd. He is manageable in these situations, he just gets a little anxious. That being said, I have been in the branding pens this summer on him and he did great and drug a lot of calves to the fire. I ended the winter roping at our local indoor arena and started summer in an outdoor pen down the road. Biscuit has seen the heel-o-matic and the heading box, but just enough for me to know he has a ton of potential. My wife took this horse for a couple of barrel nights the girls have in the winter and really enjoyed him. He is very broke and has a lot of rate. Biscuit is ready to go in any direction. He has seen and done a little of everything and put on many miles ranching. Setting up temporary fence, dragging mineral tubs, going to brandings, treating cattle and so much more. I can't stress enough the talent and ability this horse has. He really has been a pleasure and has a very kind and gentle demeanour. If Biscuit sounds like the horse or you, please check out his video. It really says a lot more about him and his experiences than I can!

| | | |
| --- | --- | --- |
| | | Doc's Oak |
| | Docs Oaks Sugar | |
| | | Miss Sugar Bingo |
| PC CHAINY OAKS | | |
| | | Sun Frost |
| | PC Chainy Frost | |
| | | John's Blacky |
| | | |
| | | |
| | | |
| | | Fire Water Flit |
| | Firewater On Ice | |
| | | Chicago Bug |
| HK I FLIT AWAY | | |
| | | Lasaber Streak |
| | IMA Lightning Streak | |
| | | Laughing Muscles |
Jr 14.3 HH
10 year old bay gelding
Owned by Alistair & Erin
Everyone loves; Buckskin s and Grays but the west was one on a black footed BAY. JR is custom built to order for our sale; 10 years old, just 15 hands, good looking gelding with a good wither, pretty head and easy to hit the stirrup on. Sometimes you just don't know when you are going to come across one of those great horses and JR was that "just come across one day" horse.  We were at a rodeo and spotted him just hanging out riding around through the parked trailers and in and out of the arena.  I couldn't help but go and talk to his owner; he was there to sell.  Needless to say JR came home with us from the rodeo and the rest is history. We have enjoyed having this gelding around and like we ve done so many times before we introduced a trail horse to the ranch life.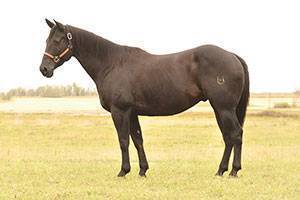 Apollo 15.1 HH
10 year old black gelding
Owned by Alistair & Erin
This handsome dude was obviously named for the "champ" in the family favourite "Rocky" movies!  Apollo is my kind of horse, absolutely full of ability, run and try with no desire to hurt anyone. Trust me when I say you will not find the bottom to this gelding, he is tough! He can really walk and cover the miles, will follow a cow anywhere through anything. People tell us it's hard to find real ranch horses now a days, well here he is. Go to a branding and work all day on one horse or need one for a quick job, one you can just unload pull the cinches into and run a cow down without any warm up? Apollo is your man! I calved heifers on him all spring; riding him through ice cold water over dead trees, nothing fazes him; He would literally just push them along at a walk with his chest. First day of take in this spring we had a wildy get loose and we had to run him down flat across the open and as soon as we got him caught he took Apollo on! Not a problem, the list just goes on. Hell the first 2 times he was ever roped on were both 2 year old simmental bulls, sounds silly but I simply knew he could handle the task. Apollo is a ranch horse but is also a nicely started head horse; I've hauled him to a couple jackpots and he would make an outstanding winter project. He runs hard to cattle, is strong across the pen and very natural on the face. I say it every year about a horse or two but I am excited to see where this horse goes in life! What does the future look like for Apollo; personal ranch horse, Pick up horse, hazing horse or big time Rodeo head horse, maybe the World Series instead? One thing is for sure: geldings like this are harder to find all the time and someone is going to be happy for years to come after the sale.

| | | |
| --- | --- | --- |
| | | Doc's Hickory |
| | High Brow Hickory | |
| | | Grulla San |
| HIGH BROW SAN PEPPY | | |
| | | Mr San Dancer |
| | Rose O Lena Dancer | |
| | | Rose O'Lena |
| | | |
| | | |
| | | |
| | | Top Moon |
| | Moons Star Trek | |
| | | Three Chick Rose |
| RR TOP MAC | | |
| | | The Boston Celtic |
| | Bostons April Dawn | |
| | | Sallie Bar's |