---
In the News: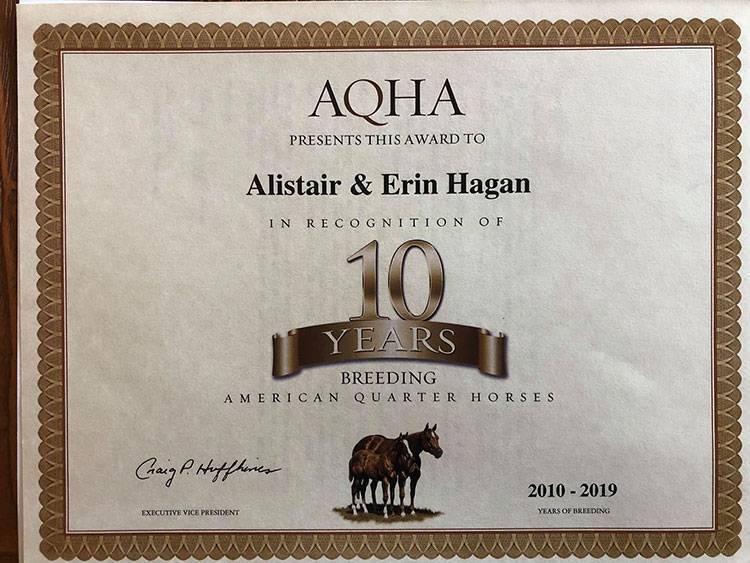 This year we received our 10-year AQHA breeders' certificate. Although our program is very small, we are extremely proud of how far we have come in 10 years! We look forward to continuing to work toward creating our ideal horse.
---
In the News:



We are beyond excited to have Baileys Tiny Charger listed as one of Canada's Top broodmares!
She is the second mare out of our small program to receive this honour!
Bailey (her ba
rn name) has given us a stud colt every year since we added her to band!
Bailey is one of our original broodmares. Part of our original breeding program plan; breed mares we have rode and liked. She was a mare that Alistair ranched on and I had her started on the pattern. She had a lot of grit and forward motion and she puts all of these traits into her colts!!
She is the momma to
Hagans StreakNBailey (1D money earner Joy Kent)
Hagans Tiny Fling aka Stinker (True Grit Derby Champion and finished Head horse) owned by us
Hagans Charger Fling aka Whiskey (Superstakes/ Futurity winner Julie and Vanessa Leggett)
Hagans Jet Fling 4 year old owned by Janet Moen
Hagans Tiny Streaker 3 year old sorrel gelding owned by us and is well on his way in the barrel pen.
Hagans Flings R Pac 2 year old owned by Joey Tariff and Sindy Laliberte
Hagans Sir Charger 2019 sorrel gelding
2020 palomino colt "name pending" owned by Kirsty White
All of these babies are sired by BF Streakin Merridoc
So blessed for all that she has giving us!! The power of a mare
Thank you Western Fortunes for such a great program!!!

---
Introducing BF Streakin' Merridoc
---
Introducing Our Newest Stallion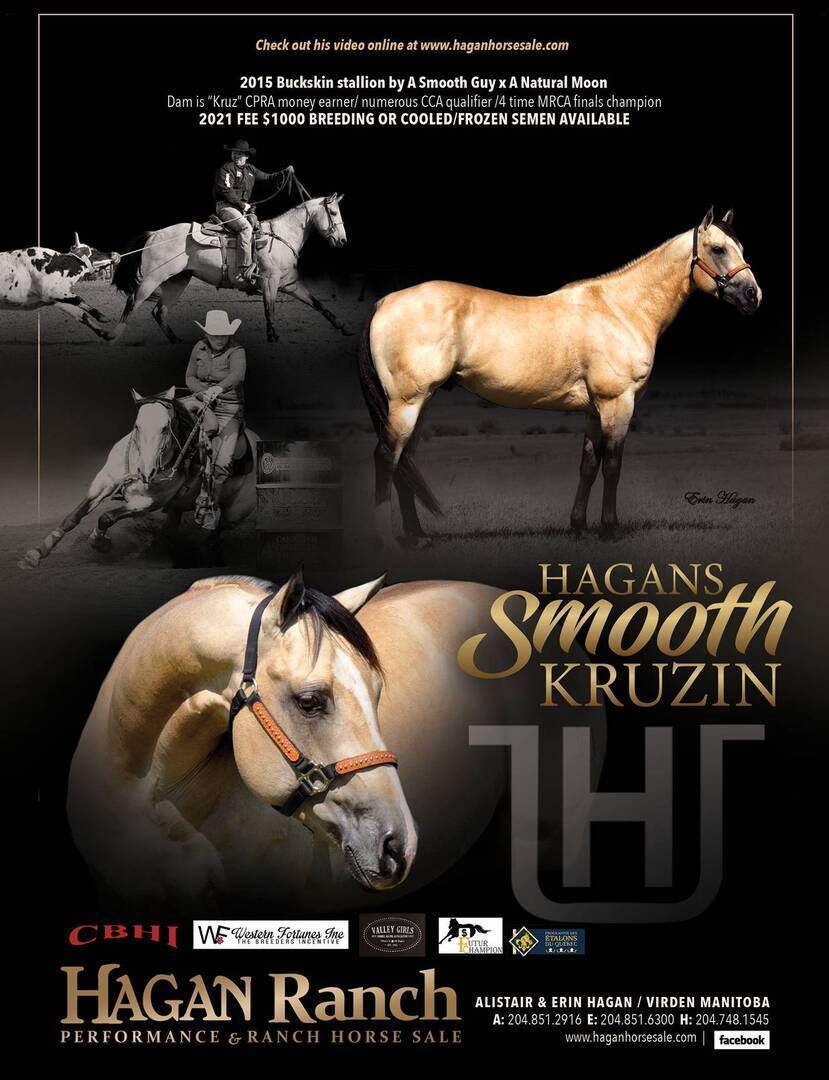 Click Here For Video
---
Oak Lake-area family receives National Blue-winged Teal Award for protecting land
By: Uncredited
Posted: 06/20/2017 3:00 AM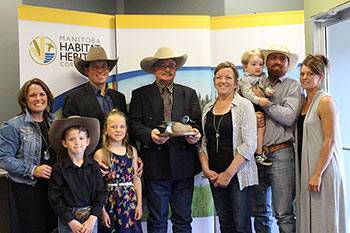 MICHAELA SOLOMON/THE BRANDON SUN

The Hagan family of Oak Lake accepted the National Blue-winged Teal Award at the Manitoba Habitat Heritage Corporation's Brandon office on Monday night. MHHC nominated the family to honour the 15 conservation easements they have to preserve and protect their land. From left: Erin, Alistair, Shawne, Jocelyn, Rory, Thomas and Felicity. Front: Slade and Harley.

Pride was in the air on Monday evening as three generations of the Hagan family were presented with the North American Waterfowl Management Plan's prestigious National Blue-winged Teal Award.

The Hagans, who live on a farm near Oak Lake, were nominated by the Manitoba Habitat Heritage Corporation in honour of the 15 easements the family has that permanently protects 4,885 acres of natural lands, including 2,020 acres of wetlands.

"The easements insure that their land will permanently stay in the condition that it's in," MHHC spokesperson Stephen Carlyle said.

Carlyle said that Hagan family has had an outstanding relationship with MHHC for years, and he hopes this award inspires other landowners to follow suit, and take extra precautions to preserve the land they own.
"Their natural areas will stay natural in perpetuity, so forever," Carlyle said.

MHHC is pleased to continue working with the Hagan family, said Carlyle, adding that they've been a great addition to a larger international conservation community.

The Hagan family consists of parents Shawne and Jocelyn, their four children, Alistair (Erin), Thomas (Felicity), Amanda, Bronwen, and grandkids Harley, Slade and Rory.

» The Brandon Sun
---