Welcome to Hagan's Performance & Ranch Horses

Coming Soon " Hagan's Favorite Ranch Horses Past and Present" video
Check out 2016 sale horses on Sale horse page.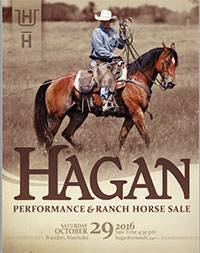 2016 Catalogue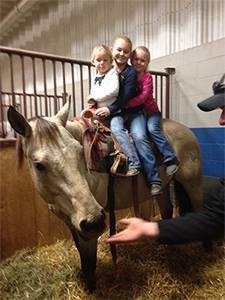 We are so pleased to announce the 2015 Hagan Family Ranch Horse Sale was a roaring success! We must first thank everyone involved in our sale; our friends and family who helped behind the scenes from taking phone bids, to switching saddles, to doing chores, to making the horses a little prettier. We truly could NOT and wouldn't want to do it without you!

We are truly humbled by the buyer support again this year and cannot thank you all enough!

2015 Sale results are as follows;

High Seller was Alistair & Erin's horse Bruno at $30000.00. Bruno (Lot #2) is a 9 year old bomb proof ranch gelding. He was purchased by Vickie Ripplinger from Montmartre, SK.  Vickie has 4 little girls that are very excited to have Bruno and will have many years of fun with him!!

Bell:  $13250.00 - Lorne & Denise Langford - Moosomin, SK

Mac:  $7000.00 - Victoria Barnes - Longbow Lake, ON

Tango:  $9500.00 – Jill & Bob Jensen – Leader, SK

Romeo:  $7500.00 – Brent Stadnik – Killam, AB

Louie:  $14000.00 – Linda & John Green – Cromer, MB

Parker:  $15500.00 – Dave Kerr – Lashburn, SK

Bruno:  $30000.00 – Vickie Ripplinger – Montmartre, SK

Quincy:  $12000.00 – Tracey Peacock – High Level, AB (Repeat Buyer)
Sophie:  $10750.00 – Ralph Bergen – Aldersyde, AB
Sonny:  $14000.00 – Tonia Smith – Brooks, AB
Marshall:  $8000.00 – Greg Lane – San Clara, MB (Repeat Buyer)


Click to Enlarge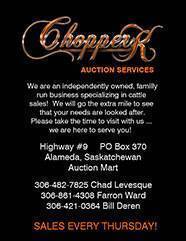 WOW!! We are so excited, proud and humbled all at the same time. Our sale was outstanding again this year! We would like to say a huge THANK YOU to everyone that supported us this year. Friends, Family and repeat buyers! Our "High Seller" was Lot #7 "CHIP" owned by Shawne and Jocelyn. He sold for $11,750 to Quinn Wilson of Calgary, Alberta.
The Horses are now all making there way to their new homes and we always look forward to hearing feedback and the stories of them with their new families. It always makes us happy to see how excited people are to get their horses! When you see a son hug his Dad after the hammer drops and they own the horse, or a wife give her husband the nod to bid one more time: that is the ultimate rerward, it makes what we do worth it!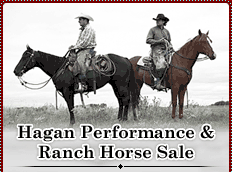 "Bailey " $15,000
General $9,200
William $10,100
Joe $10,750
Hickory $8,500
Big John $8,500
PJ $11,750
Mick $5,400
JB $8,300
Sale Average $9,525


Why we believe in ranch horse beginnings…
We feel that people are today looking for "been there done that horse". Some want them better broke than others but everyone wants to know how they will "react" to any given situation. They want them safe! In our opinion you can make both safe and broke horses on the ranch. We are life long students of horsemanship, we take clinics, read books, watch videos, and do are best to improve. The common thought of all of today's great clinicians and horseman is that horse's are best "started" on the ranch. One such horseman Stacy Westfall believes this is because "horses that have been exposed to a large variety of activities last longer than those that have been drilled toward perfection on a single thing such as reining etc. This is because these horses have had to think along the way and exercise their mind all the while creating a better minded easier going horse" end quote. (Stacy Westfall, AQHA horseman famous for appearing on "Ellen" riding the bridle less, saddle less reining pattern as well as winning the "2008 Road to the horse" she has a feature article each month in the America's Horse magazine). Our horses start their life in the roundpen and the arena then move outside to simple trail riding, riding over fallen trees, through water, dragging logs etc. The horses continue their education back in the arena, with dry work, working the flag, mock branding, roping the heel-o-matic and track steer and next thing you know they are in the work string. They first start with moving cows or going to work at the sales barn and all of a sudden they graduate to sorting, branding, round penning colts, roping and doctoring cattle in the open. Finally we move them back into the arena to refine their handle and if it is a fit for the horse they begin their career as a team roping horse. We strive to do every job possible on the ranch a horseback; we get all of our ranch work done while riding these sales horses and pride ourselves in the fact that our horses "enjoy life" and like to be ridden. It is within those parameters that we begin the culling process, as not every horse that we own makes the sale. We do our best to start with good looking, sound, attractive, athletic horses but if they do not enjoy being ridden then it is our opinion that no one will enjoy riding them. That said those horses simply do not make it. The whole time that we ride our horses we are developing their mind and simply getting to know them as individuals; do they enjoy being ridden, how do they react to pressure?

Our Ranch horses have been put in pressure situations and have had to handle different scenarios in their day to day life. They are constantly presented with situations in which they have to think for themselves and "react" and it is how they react that tells us what kind of horse they are going to be. We truly feel that these horses can go on in life and take on many different disciplines in the future and although we can not expose them to everything in this world we have put them in enough of these situations that we are confident in how they will "react" and that is why we believe so much in "Ranch horse beginnings"
If you are not on the mailing list for either please phone or
e-mail
us ASAP.
Thanks for visiting us at
haganhorsesale.com
and hope to see you at the sale
or at the ranch for a test ride!
updated September 26, 2016