---

Still For Sale
Please Contact Thomas at 204-851-2554 or
Felicity 204-851-2311
or email haganvalleyranch@hotmail.com
Scooter 14.3 HH

9 Yr old Sorrel Gelding
Owed by Thomas and Felicity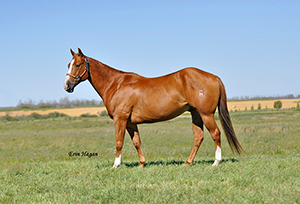 We are very proud to be able to sell this horse at our sale this year.  Scooter really is the total package.  Broke, good minded, prime of his life, ranch experience, arena experience all in a good looking, 14.3 hh gelding.  This summer Scooter has been busy treating foot rot!!!  That seemed to be the theme of this years grazing season making Vegas and him busy boys.  We ran cattle out to treat,sneak roped, tied off, pasture sorted, drug calves at brandings and rotated cows.  Scooter hasbeen hauled in the Alberta Barrel Racing Association and lightly started in team roping as a head horse.  He has a fantastic handle on him, nice neck rein and lots of body control.  Scooter is a full brother to my good heel horse "Derby" and is a grand son to the great Canadian cow horse, "Smart Little Baggins."  I started him asa three year old and sold him in our 2011 sale to Glenda and Chantel Rivard.  They trail rode and lightly barrel raced on him in the ABRA and when we got a chance to buy him back last fall, we jumped at the opportunity.  I really don't think horses of this calibre go up for auction very often, which is why we are so proud to have him in the sale this year.  I know this horse with 30 days professional head horse training could be a high level head horse for a low to high numbered roper.   He has a fantastic mind, tons of athletic ability and lots of ranch roping experience, basically a great recipe for the foundation of an arena horse.  He has been hauled all over the place from the mountains, to barrel jackpots, our pasture and to the local indoor arena and takes everything in stride.  We can't say enough good things about Scooter and we will certainly miss this guy around here.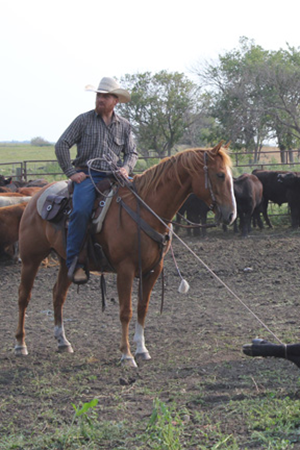 ---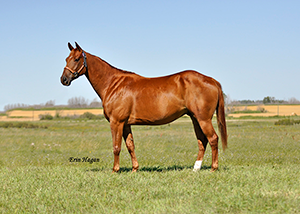 Vegas 15 HH
6 Yr old Sorrel Gelding
Owed by Thomas and Felicity
Here is a horse we just can't say enough good things about.  Vegas has a fantastic demeanour, he's easy to catch, easy to ride and just a pleasure to be around.  He can be rode every day or once every two weeks and he is the same horse.  Vegas is certainly not lazy, he has a fast walk and a beautiful big stride to his lope.  He was raised just a few miles down the road at DAC Farms.  His sire, "Double Jac Moon," throws them quiet and athletic.  Vegas has two half-brothers showing this year in the Manitoba Rope Horse Futurity and countless more being competed on in the MBRA an MHSRA. He is certainly true to his roots, these horses are just so easy to get along with. Vegas is always the first horse to come up to you in the pasture and when you saddle him up you can just ride away.  He was sold as a colt to our friend Les McNaughton and then sold to my dad.  Mom and Dad gave him to us as a wedding gift two years ago and we have been riding him ever since.  We have ranched on Vegas all summer, from checking, to treating, to rotating cattle, he has done it all and everything in-between.  He has run a lot of cattle out to treat and been to brandings, dragging calves to be processed.  Matt Campbell helped us treat once a week all summer and he rode Vegas most of the time and got along famously with him.  Felicity has gathered cows and pen sorted with him and just loves his big open stride and his safe, easy to work with attitude.  I think this horse has a bright future ahead of him.  Athletic ability and a great mind, coupled with experience, Vegas can go anywhere from here. 
---
Check out 2016 sale horses on Sale horse page.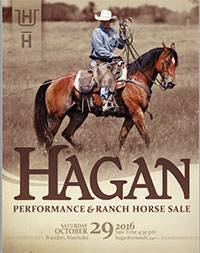 2016 Catalogue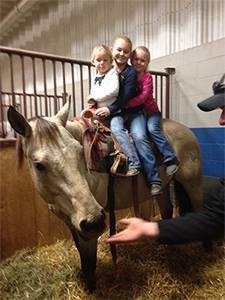 We are so pleased to announce the 2015 Hagan Family Ranch Horse Sale was a roaring success! We must first thank everyone involved in our sale; our friends and family who helped behind the scenes from taking phone bids, to switching saddles, to doing chores, to making the horses a little prettier. We truly could NOT and wouldn't want to do it without you!

We are truly humbled by the buyer support again this year and cannot thank you all enough!

2015 Sale results are as follows;

High Seller was Alistair & Erin's horse Bruno at $30000.00. Bruno (Lot #2) is a 9 year old bomb proof ranch gelding. He was purchased by Vickie Ripplinger from Montmartre, SK.  Vickie has 4 little girls that are very excited to have Bruno and will have many years of fun with him!!

Bell:  $13250.00 - Lorne & Denise Langford - Moosomin, SK

Mac:  $7000.00 - Victoria Barnes - Longbow Lake, ON

Tango:  $9500.00 – Jill & Bob Jensen – Leader, SK

Romeo:  $7500.00 – Brent Stadnik – Killam, AB

Louie:  $14000.00 – Linda & John Green – Cromer, MB

Parker:  $15500.00 – Dave Kerr – Lashburn, SK

Bruno:  $30000.00 – Vickie Ripplinger – Montmartre, SK

Quincy:  $12000.00 – Tracey Peacock – High Level, AB (Repeat Buyer)
Sophie:  $10750.00 – Ralph Bergen – Aldersyde, AB
Sonny:  $14000.00 – Tonia Smith – Brooks, AB
Marshall:  $8000.00 – Greg Lane – San Clara, MB (Repeat Buyer)


Click to Enlarge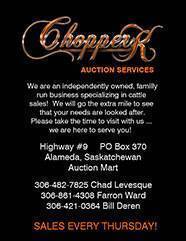 WOW!! We are so excited, proud and humbled all at the same time. Our sale was outstanding again this year! We would like to say a huge THANK YOU to everyone that supported us this year. Friends, Family and repeat buyers! Our "High Seller" was Lot #7 "CHIP" owned by Shawne and Jocelyn. He sold for $11,750 to Quinn Wilson of Calgary, Alberta.
The Horses are now all making there way to their new homes and we always look forward to hearing feedback and the stories of them with their new families. It always makes us happy to see how excited people are to get their horses! When you see a son hug his Dad after the hammer drops and they own the horse, or a wife give her husband the nod to bid one more time: that is the ultimate rerward, it makes what we do worth it!