2006 Bay Roan Stallion

2018 Breeding Season
$1,000 LFG
Live cover/ cooled semen available
EVA negative 5-panel tested N/N

Stallion Incentives
CBHI /Superstakes , Western Fortunes






---

We as a family are both very proud and confident in Merridoc to excel in any discipline so much that we are offering a
$5,000 INCENTIVE
to the first person to win on his offspring in any Canadian approved futurity.  Call for details. 
Alistair and Erin Hagan Virden Manitoba 
1-204-748-1545
Alistair Cell 204-851-2916 Erin Cell 204-851-6300
Easy Six AAA si 97 $198,740
Easy Jet AAAT si 100 $445,723
Streakin Six AAAT
si 104- $473,934
Miss Assured AAA si 95
little Request (TB))
A Streak of Fling
AAA si 98-$27,645
Fast Fling AAA si 98
Calamity Jones
Moon Fling AAAT 
si 102 $69,507
Moon Beam Lady
Lady Bugs moon AAATsi 100- $191,536

BF Streakin Merridoc

Tiny's Gay
Tiny Watch x Gay's Delight
Merridoc si 102
Sparkling Tip
Diamond Charge x Tiptoe Tune (TB)
Winnsboro AA
Dash For Cash
Rocket Wrangler x Find a Buyer (TB)
Woodsboro
Chick's Dimple Too
Three Chicks x Dimples Too
We are so proud to own such an outstanding Stallion! BF Streakin Merridoc (aka Merri)  has touched our lives with his gentle and willing deposition. He is correct, athletic, easy moving,  cowy, and very attractive.  Merri loves people, he is easy to work with and eager to please.  His first foal crop was born in 2010 and he is STAMPING his babies with all the qualities that he possesses.

Merri is by the great A STREAK OF FLING SI 98; #3 Leading Sire of Barrel Horse Money Earners; progeny earnings in excess of $2.5 million+. He has sired the 2016 "The American" Barrel Racing Champion, "The American" Qualifiers; NFR Qualifiers; CFR Barrel Racing Champion; High Sellers with PROMISES TO STREAK in 2014 for $114,000.00 USD and A STREAK OF SCARLETT in 2015 for $100,000

Dam: Winnsboro – AA by Merridoc SI 102; Sire of 808 ROM earners; 58 Stakes Winners; Progeny Earnings $13,474,507.00!!
In The News
:

Although Merri has a very limited number of foals that are of competing age we are starting to see some really awesome results!! 
We continue to enjoy the process and look forward to the future!
Hagans French Fling 2013 buckskin mare ( aka Smudgie)
(Merri X Frenchmans Mistee by Frenchmans Guy)

Click Here For Barrell Video

Click Here For Ranching Video
Smudgie is just entering her futurity year and we couldn't be more excited!! She has such a desire to work a barrel it is very natural for her!! We plan on entering her in as many barrel racing futurities as we can get to this year! Also watch for her to be competing at the Manitoba Rope Horse Futurity on the heading side. All of Merri's babies have shown us that they are extreme cowy and Smudgie is no different!
Hagans Special Fling 2011 Bay roan gelding ( Aka Straws)
(Merri X Strawflyn Illusions by Strawfly Special)
Click Here For Barrell Video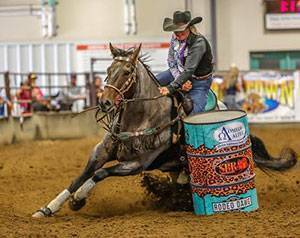 Jane Corey and Straws had an outstanding 2017 year! They finished 4th out of 300+ enteries in the Long-go and 7th in the short-go at the SBRA Finals
A Streak of Attitude 2012 buckskin roan gelding
(Merri X Dolls Peppy Attitude by Solanos Peppy San)
Click Here For Video

Click Here For Video

Ryan Dunn had a great showing on the heeling side with his Merri baby at the 2017 MB Rope horse futurity placing deep amongst everyone!

Hagans First Winner 2010 Brown mare (aka Rainie)
(Merri X Runaway Tops by Sammies Runaway )
2015 ran the FASTEST time out of the futurity colts at the MBRA finals. She continues to run 1D times and has moved into her rodeo career! Slade (our 7 year old son) ranched on her this year and told us he is going to maybe make her into his horse !

Hagans Streakin Val 2012 Blue roan mare (aka Sister)
(Merri X Kits Dashing Val by Kits Moon Shadow)
Click Here For Barrell Video
5th out of 130 last weekend with a
14 year old riding her!
#4 WINNER of an 8 run winter series
Hagans Major Fling 2012 bay roan gelding ( aka George)
(Merri X Poos Presciption by Prescribed by Major)
Kelsey just purchased George this spring with 90 days on him and look how far they came in such a short of amount of time!! She had her work cut out for her but they made it to the CBHI weekend to show him in his futurity year! Very impressive!

Hagans Streakn Bailey 2012 palomino gelding ( aka Ruger)
(Merri X Baileys Tiny Charger)
Click Here For Video
Although Ruger had some set backs with injuries getting him to his 5 year old year it doesn't look like he is going to let that slow him down in life. He showed consistent placing in the 1D all summer!! Keep it up Ruger & Joy!!

Hagans Peppy Fling 2014 sorrel mare (aka Pam)
(Merri X JBS Badges Olena by Peppy Badge Olena)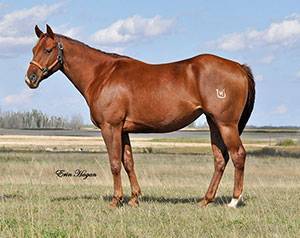 Pam was the last colt that we got out of JBS Badges Olena so we just had to keep her. She is eye catching, intelligent and quick footed. Bring on 2019!!

Hagans Tiny Fling 2014 chestnut gelding (aka Stinker)
(Merri X Baileys Tiny Charger )
Stinker is an easy going gelding with a big stride. He is right on track for his barrel/rope horse futurity year .

---

Current Merri Babies For Sale

:

2015 Merri Colts For Sale

Hagans Frosty Fling
2015 Bay mare
( BF Streakin Merridoc X TCR A Touch Of Frost by PC Sir Azure Frost own son of Sun Frost)

This colt is being offered for sale through our family horse sale on October 28th. For more info please go to the "Sale horse" tab at the top of the page.


Hagans French Lady
2015 Black Mare
(BF Streakin Merridoc X Frenchmans Mistee by Frenchmans Guy)


CBHI SUPERSTAKES certificate goes with this mare

Hagans Kiss My Fling
2015 Bay Roan gelding
( BF Streakin Merridoc X Shabbys Miss by Kiss My Baggins)


2016 Merri Colts For Sale

Hagans Shadow Fling
2016 Black gelding
( BF Streakin Merridoc X Kits Dashing Val by Kits Moon Shadow)

Hagans Strawflyfling
2016 Bay Roan gelding
( BF Streakin Merridoc X Strawflyin Illusions by Strawfly Special)



Hagans Jet Fling
2016 Palomino gelding
(BF streakin Merridoc X Baileys Ting Charger by Perrins Tivio Doc)


Hagans Got Fling
2016 Bay Roan gelding
(BF Streakin Merridoc X Poos Presciption by Prescribed By Major)

2017 Merri Colts For Sale

Coming Soon!

Sold Merri Babies

---

Hagans Prissy Fling
2016 Bay mare
(BF Streakin Merridoc X Frenchmans Mistee by Frenchmans Guy)


SOLD  @ CBHI Sale 2017 $5,500  Thank you Megan Blais

Hagans Fling N Fly
2015 Bay Roan gelding
(BF Streakin Merridoc X Strawflyin Illusion)

SOLD- Congrats Lora-Lee Wick

Hagans Runaway Fling
2012 gray gelding
(Dam- Runaway Tops)
Sold to Judy Myllymaki

Hagans StreakinVal
2012 blue roan mare
(Dam- Kits Dashing Val)
Sold to Judy Myllymaki and is now being campaign by Laurie Cooper in Tennessee

Hagans Larking Fling
2015 blue roan mare
(Dam- Kits Dashing Val)
Sold to Renie Schnitzler

Nicole Pana
2017 Sorrel Mare
(Dam - Famously Smashed)

BF  Hagans Fristdownfling


2015 bay roan gelding
(Dam- Runaway Tops)
Sold Rachelle McCannell

Hagans Major Fling


2011 bay roan mare
(Dam-Poos Presciption)
Sold Jane Corey

Hagans Special Fling


2011 Super Stakes gelding
(Dam -Strawflyn Illusions)
Check out Merri's Facebook page for updates on amazing team)
Sold Jane Corey

Hagans Streakinolena
2011 blue roan mare
(Dam -JBS Badges O'Lena)
Sold Dean Skyes

Sold $6,000

Hagans Winning Fling
2 year old Super Stakes Gelding
Rick & Jodi Hollingsworth

Sold $6,250

2 year old Super Stakes Gelding
Dallas & Sonja McGee


(spring of his yearling year)

Hagans Charger Fling
2015 buckskin Super Stakes gelding
(Dam- Baileys Tiny Charger)
Be sure to check Merri's Facebook page for out updates on this colts future!
Sold to Doug Wilkinson/Julie Leggett (Along with 2 breeding for the 2016 season)

| | |
| --- | --- |
| (Hagans Charger Fling summer of 2015) | (Hagans Charger Fling summer of 2015) |

Hagans Streaknbailey
2012 Super Stakes gelding
(Dam- Baileys Tiny Charger)
Sold to Andrea Udal and is now being campaigned by Joy Bamber.

Hagans Fling Got Pep
2015 red roan mare
(Dam- Poos Presciption)
Sold to Dean Lamberton




Sold $10,750!

Sophie 14.3HH
Hagans First Fling
2 year old blue roan mare
Owned by: Alistair and Erin




---





Not only are we a young breeding program but to complicate things further; we are "Poor people in a Rich person's game". We feel strongly that in this competitive world you have to have that edge, to gain an edge in this extremely competitive market we are striving to use what we have to set our selves apart. Almost everyone who is successful will tell you that in order to be successful you must work on your own strengths; you can't worry about what you don't have but rather work with what you do have. Our strength, our "Ace in the Hole" or our edge as the poor people in this rich person's game is quiet simply the fact that we are horseman, we ride a lot of horse; we start colts, we ride futurity colts, we ranch and we rodeo. Our sale allows us to ride and sell a lot of good geldings and is helping us work towards our goal of an all mare line up for our personal rodeo and ranch horses. With this we gain the ability to find out which horses and or bloodlines are trainable and therefore worth breeding!  We started by looking for the mothers and/or sisters of the best geldings we have ever rode. Then we began sourcing out the proven strong maternal blood lines that will best compliment our stallion. We are working towards a streamlined brood mare band, which will also serve as our good rodeo and jackpot horses. We believe by breeding mares that we are either currently using ourselves or older mares that have proven themselves as winners and producers in the past we can keep unnecessary costs down such as feed and care for extra horses and put that same money back into our breeding program, for example the embryo flush of our 2 great barrel horse mares. As I said this is our "Ace in the Hole" and the best way we know of to produce foals that are everything you need in today's competitive performance horse world; trainable, athletic, sound, well bred, trainable (yes we said it twice we believe this to be very important) and last but not least good looking, we only ride (and breed) mares that will turn heads anywhere any time! When people ask "what do you have for mares" we want to be able to say; "well just come over to the trailer and we'll show you". We want people to say whoa that colt is off of Erin's good barrel horse or Alistair's head horse etc.

Merri's Ladies

A Dash Of Fame





Dash For Cash
First Down
First Prize Rose
Dash Ta Fame
Tiny's Gay
Sudden Fame
Bar Dearie
A Dash Of Fame
Beduino
First Refusal
Deck 'Em
Little Deucey
Streakin Six
Deuce Again
Cash To Spare

---

Famously Smashed





Doc's Jack Frost
Sun Frost
Prissy Cline
Bug In My Frosty
Bugs Alive In 75
Flyin Hi Babe
Tweedy Bird
Famously Smashed
First Down Dash
Dash Ta Fame
Sudden Fame
Some Famous Pleaser
Easily Smashed
Some More Please
Azure Girl Greene

---

Mr French Miss





Doc's Jack Frost
Sun Frost
Prissy Cline
PC Frenchmans Hayday
Tiny Circus
Caseys Charm
Casey's Ladylove
Mr French Miss
Three Oh's
Bar Van Three
Miss Bar Bob Van
Miss Sandys Pride
Mr Loujack
Lous Miss Cutter
Baby Cowgirl

---

Frenchmans Mistee
Frenchmans Mistee




Doc's Jack Frost
Sun Frost
Prissy Cline
Frenchmans Guy
Laughing Boy
Frenchman's Lady
Casey's Ladylove
Frenchmans Mistee
Dash For Cash
Dashes Eagle
Go Go Eagle
Dash Van Te
Azure Sky
Edelweiss Te
Topsie Van

---

Fabulous Jewel


[ Photo Coming Soon ]




Sun Frost
Fenchmans Guy
Frenchman's Lady
Frenchmans Fabulous
Tiny Circus
Caseys Charm
Casey's Ladylove
Fabulous Jewel
Laughing Bar Boy
Laughing Boy Pete
Miss Peppy Day
Laughing Daydream
Ed's Gray
Dream On Miss
Bitty Dream

---




Doc's Jack Frost
Sun Frost
Prissy Cline
PC Sir Azure Frost
New Decade
Bunny Bet
Doubles First
Kat
First Down Dash
Royal Quick Dash
Harems Choice
Cashinthmoon
Moon Lark
Sassy N Sultry
Sweet Cash

---

Baileys Tiny Charger





Holidoc
Blynx
Blue Lynx
Perrins Tivio Doc
Joe Joe Jack
Perrin's Two Jack
Dear's Paula
Baileys Tiny Charger
Pacific Bailey
Pac It Easy
Maisey Daisey
Pacs Alibi
Sir Winsalot
Steamed Up Lady
She's In A Hurry

---




Top Moon
0168392
Moon Lark
1217475
Pan O Lan
0716723
Kits Moon Shadow
2127224
With Ease
1155279
KItsoease
1290796
Kit Deck
0836853
Kits Dashing Val
Dash for Cash
1238058
Dashing Val
2395013
Audra Do
1423258
SINSA
3504012
Chicks Beduino
2435677
Sinsa Shanal
2910936
Liquorice and Lace
2221854

---

Runaway Tops • AKA Sammie
15.2 HH 1300lbs Gray




Beduino
T0136290
Runaway Winner
2624918
Miss Fast Chic
1257379
Sammies Runaway
4131154
Savannah Jr
0366025
Sammie Vannah Kay
X0228403
K. Binary
T0136645
Runaway Tops
Count Giacomo
T0227468
Top Account
X0520482
Bugs Too
2081100
First Down Tops
X0615814
First Down Dash
2241706
Embrujo FG
3091821
April Nine
2238480

Sammie is one of those mares who can turn heads anywhere; she is very balanced, deep bodied mare with a pretty head a strong shoulder and withers, big hip and a lot of bone and foot. To top it all off she is gray to boot. Sammie herself is a race winner that we bought of the track as a 2year old after a short career. Sammie was bought with the intentions to futurity her, following later in life with breeding her but one day in the spring of her 3 yr old year we where breeding mares and she was just standing there horsing, we had extra semen and well the rest they say is history. We then thought well we simply wouldn't breed her the spring of her 4 yr old year and we'll put her back into the program. It was very evident only hours after foaling that there would be no way we could afford to not breed her again. Her filly by our stallion BF Streakin Merridoc is nothing short of outstanding. Simply put she is what we want to raise. So even though Sammie was a very promising futurity prospect, her true calling can not be denied.

Sammie's sire is an own son of the great race horse sire Runaway Winner by the race horse legend Beduino TB. Runaway Winner was the #1 leading sire for 1996, and remains the #2 all time leading brood mare sire as well as one of the leading sire of Money Earners, leading Sire of Two Year-Old Money Earners and a leading sire of sales yearlings. Runaway Winner is sire of earners of $3,853,344, 42 stakes Horses, 65% Winners Per Starters.

Her dam First down tops  was a successful race horse herself and is a granddaughter of the win ingest race horse sire of all time, "First down dash" on the top and on the bottom a granddaughter of the #2 all time maternal barrel horse sire, Bugs Alive in 75.

In closing Sammie is a very young mare that successfully made the transition from race winner to saddle horse but had her barrel career cut short to do what she was put here to do; raise outstanding foals. Sammie is a beautiful mover she could lope circles in your living room! She is big, strong, very good looking, extremely well bred and at a young age already a proven brood mare.

---

Strawflyin Illusions •  AKA Strawfly
15HH 1250lbs Liver Chestnut

Raise Your Glass
T0118794
Special Effort
1962337
Go Effortlessly
0912824
Strawfly Special
2613710
Pie in the Sky
1292059
Fly in the Pie
2113337
Flying Rockette
0936373
Strawflyin Illusions
Beduino
T0136290
Tolltac
2217596
Little Smoothie
0925845
Fusion Illusion
X0436996
KiptyDoo
T0059064
Sommers Starlet
X0261003
Jaime Sommers
1228072

We feel very fortunate to have found this mare; an own daughter of the great brood mare sire; Strawfly Special and out of an own daughter of the top ten brood mare sire Tolltac. She has every corner of her papers covered, carrying the outstanding race horse pedigree we need to produce high end barrel horses but more importantly Strawfly is exactly what we think a brood mare should look like. She looks like you could ranch on her or take her to the arena to bulldog, rope calves and obviously barrel race! Strawfly is a very, very pretty mare, she is deep bodied with an awesome big hip, low hocks and a ton of eye appeal. The year this mare was foaled Strawfly Special's stud fee was $10,000, and yes that worked in sale ring. In 2002, his yearlings sold for an average of $21,025 each.

Her sire Strawfly Special si 97 (stakes winner of 11 races with earnings of $222,920), by Special Effort, si 104, and out of Fly in the Pie, si 99 (by Pie in the Sky, si 104).His offspring earnings total $17,002,141. he is the sire of two All-American Futurity winners, Ausual Suspect, si 96, and Streakin Flyer, si 96, as well as AQHA Supreme Race Horse, 2-Time World Champion, 4-Time Champion Tailor Fit, si 110. Strawfly Special was a race horse legend and remains the #3 all time maternal race horse sire, the #1 Leading Sire of Winners, #2 Leading Sire of Money Earners, and #2 Leading Sire of Graded Stakes Winners.

Her dam is an on own daughter the race horse champion Tolltac si 113 who is by the great Beduino TB. Tolltac—was stakes winner of 12 races up to his 3yr old year, with earnings of $1,143,043! He won the $364,000 Bay Meadows Futurity, Tolltac finished the year with three Grade 1 victories in the Bay Meadows Futurity, Kindergarten and Golden State futurity, along with a second in the Dash For Cash. He was also named the nation's outstanding two-year-old and two-year-old colt. Tolltac was also a great sire; he sired 605 foals, 462 starters, 367 ROM, 40 stakes winners, 43 stakes placed, and 3 champions, with earnings of $7,078,888! This great stallion (who died in 1999) remains on the top ten list of Broodmare Sires by Earnings!

This mare was born and bred to be a brood mare and that what we look for her to do here, we look for this mare to produce foals by Merri that will have many different avenues to earn money as well as long term careers. With her proven race horse pedigree all the way through we may race some these foals but feel that with her strong ranch horse conformation that these same foals will be able to return from a career at the track to be added to the rodeo world.

---

JBS Badges O'Lena • AKA Mother Goose
14.3HH 1250lbs Sorrel with roan flank and tail head

PHOTO COMING SOON!

Mr San Peppy
0548845
Peppy San Badger
1089924
Sugar Badger
0183512
Peppy Badge Olena
2443241
Doc O'Lena
0493297
Montanas Lena
1384005
Magnolia Moon
0351419
JBS Badges O'Lena
Doc Bar
0076136
JuJo's Jay Bar
0687167
Rabbit Reed
0041269
Pamela Jujos Joy
2115404
King Leo Bar
0106089
Pamela Kilebar
0312203
Pam Page
0135263

This mare is not only royally bred but is everything you would want in a brood mare. She is extremely correct, deep bodied, with a short back and a long underline, a big hip and a she is an easy keeper. Mother Goose is the dam of Alistair's young bulldogging horse Goose, he is the quickest and most athletic gelding we have ever ridden and everyone who passes through the yard asks "what is that horse?" He is arguably the fanciest gelding we have ever owned, the kind of horse that looks like he could move forward in to any discipline from racing to bulldogging from halter to the rail and Erin says if she could build a barrel horse from scratch; she build him to look exactly like Goose.

Her sire is the great Canadian cutting horse champion, NCHA money earner and sire, Peppy Badge OLena. Peppy Badge OLena is the result of the cross breeding of arguably the two signal most recognizable names in cutting, 2 hall of famers who have a combined $50,000,000 in sired earnings! He is an own sun of the legend Peppy San Badger and out of Montanas Lena an own Daughter of the legend Doc O'Lena.
Her Damn Pamela Jujos Joy is a grand daughter of the legend Doc Bar on the top and out of an own Daughter of the Legendary race and cutting horse sire King Leo Bar (si95), thought to be the greatest cross of legendary runners; Leo and Three bars.

We look for Mother Goose to bring her proven ability to produce forward in to our program. The proven trainability of her legendary pedigree both as cutters and runners, yes runners, Peppy San Badger's sire Mr San Peppy is a Hall of fame champion cutter but he was actually supposed to be a race horse! At least that was until he was sent to a young cowboy trainer who was to start him for the track. That young cowboy was none other than Buster Welsh; he thought he'd make a cutter. These are the kind of multi event using horses we want to raise, cow horses who can run! Her first foal by Merri is a big, pretty, blue roan filly, she is very correct and everything we hoped she would be. We know she will be not only be athletic but extremely quick, a guaranteed winner.  

---

Poos Prescription • AKA Classy
15HH 1150lbs Blood bay with blaze face

Coy's Bonanza
Major Bonanza
Manana's Rosa
Prescribed By Major
3704128
Doc's Prescription
Bubble Doc
Tootin Bubble
Poos Prescription
Peppy San Badger
Got Pep
Pepsi Playgirl
Gotcha Poo
3734554
Peps Mr Doc
Peps Super Poo
Super Poo

This gorgeous bay mare is a full sister to Alistair's young head horse; he has hauled her to jackpots and also uses her at cow horse and horsemanship clinics. She was very easy to start even though she was not started until we bought her as a 5 year old! She was rode at the auction mart (sales barn) with only 6 rides. She is proven trainable and very cowy, the most natural horse we have ever headed off! The coolest thing about this mare is the simple fact that every where we go, everyone has to know who is this, where did this mare come from. Classy is also by the same great sire as 4 of our past sale horses including the 2010 high seller Ruby-Jean, 2 barrel horses Hustler and Playboy (see testimonial page) and now rodeo heel horse Oakey (2009) sold to Todd Gallais.

Her sire is the Canadian Supreme Reining champion Prescribed By Major; a gorgeous bay son of the great Major Bonanza and out of the great mare Bubble Doc. Prescribed by Major is as nice of horse as you will ever find, beyond his outstanding performance career (in unlikely Reining, he is bred to be a cow horse) he is simply an awesome specimen. His sire "Major Bonanza" was the first AQHA horse ever to sell for $1,000,000 and the horse that made all time great horseman; Bob Avila. Bob Avila won his first world title aboard Major (15 in total). Bob Avila said "Major changed the performance horse world; he was so pretty that everyone else was shamed into starting to ride only the pretty ones".
Her dam the big bay mare Gotcha Poo, herself a finished cutter is by the all time leading Canadian cutting horse sire Got Pep (Peppy San Badger x Pepsi Playgirl by Freckles playboy), a full brother to the all time great NRHA legend Dual Pep. Gotcha Poo has all proven working cutting horses in her pedigree.

In summary we feel that Classy will add halter horse good looks thanks to her sire and grand sire, an amazing amount of cow through her mother with out sacrificing size and most importantly proven trainability (we have rode many siblings and they all or very trainable). Her first colt by Merri is an awesome stud colt, a big good looking bay roan that was the pick of every cowboy and roper we had through the place this summer. We know this young man will be very cowy and trainable and can't wait to start him.

This is Classy full sister Major Poofection. One of Alistair's head horses

Major Poofection

Stallion Got Pep

Stallion Major Bonanza
Classy ½ sister- Ruby Jean-  2010 Hagan Horse Sale Top Seller -  Ruby Jean (check out sale page and video)

---

Fancy
Catch my Strawfly

Raise Your Glass
SPECIAL EFFORT
Go Effortlessly
Strawfly Special
Pie In The Sky
FLY IN THE PIE
Flying Rockette
Fancy
First Down Dash
Royal Quick Dash
Harems Choice
Bugs Be Quick
Go For Bugs
Bugs Fly Away
Jaydancer

---

Smartlittlestarlight • Aka Paddy
14.3HH 1150lbs Black

Mr San Peppy

Peppy San Badger

Sugar Badger

Paddys Irish Whiskey

Doc Bar

Doc's Starlight

Tasa Tivio

Smartlittlestarlight

Smart Little Lena

Smart Little Aleck

Carolyn Dry

Smart Little Mona

Doc O Dynamite

Crystal Mona Doc

Crusader Mona

This is the kind of mare that can make a breeding program and she may well be one of the cornerstones of our future in the performance horse world. She has every corner of her papers covered, she is a finished money earning cutter (youth), she is kid quiet and to top it all off she carries that hard to find black jean. To date one of the most successful crosses with A Streak of Fling has been the Paddys Irish Whiskey daughters. Armed with this knowledge we have been looking for an own daughter of Paddys Irish Whiskey for some time and couldn't believe our luck when we were given the opportunity to purchase this mare. She was raised by the legendary John Scott of Montana and is a granddaughter of his great cutting horse Doc O Dynamite (the sire of Rachael Myllymacki's awesome NFR barrel horse "Scott"). Among many others she is a half sister to 3 times AQHA versatility world champion "Smart Whiskey Doc" owned and ridden by one our heroes Mike Majors. On top of her pedigree Paddy is also "the kind"; she is very correct with a pretty head, clean throat latch, perfect head set, a strong shoulder, great wither and beautiful hip. She is a proven performer; as she was hauled and won money in the NCHA youth and then after more then 6 years off we simply saddled her up and rode away, she felt great, very very broke!

Her sire is the great Paddys Irish Whiskey (6666's ranch), he himself is NRHA money earning performer and is a member of the cow horse royal family. He is an NRHA and NRCHA All-Time Leading Sire, he is the #1 all time leading AQHA versatility sire and "Western Horseman" just named him the #1 ranch horse sire of all time. His full brothers Grays Starlight and Rooster are cutting and working cow horse champions as well as all time leading sires respectively (Peppy San Badger). Like his full brother GRAYS STARLIGHT, PADDYS IRISH WHISKEY has earned respect as a consistent sire of both class and high-end trainability for all walks of the reining and cowhorse worlds, siring champions in versatility ranch horse, reined cowhorse, cutting, reining, calf roping and team roping. Paddys Irish Whiskey was a 2008 Equi-Stat Leading Cutting Maternal Grandsire, whose daughters have produced 33 money-earners totaling $363,000 and averaged more than $11,000 in cutting, reining, reined cowhorse, ranch horse and roping events.
Her dam Smart little Mona a NCHA futurity colt herself, is a cowhorse all the way. She is Granddaughter of the all time leading sire, the legend "Smart Little Lena" on the top. On the bottom she is a Granddaughter of the great "Doc O dynamite", the legendary cutting horse sire of the man who raised her; John Scott whom is a legend himself.
           
In summary we look to Paddy to produce us a barrel racers dream; a pretty colt that will be dark in colour (either black or blue roan) with a lots of run and a ton of rate, a smooth mover with a great mind. This cross has proven to be athletic and trainable, as we are crossing one of the greatest cowhorse families with the trainability and run of Merri. This cross has proven create very clean front ended, fancy looking, beautiful moving horses. These are the kind of colts that we want to ride and futurity, the kind that will be hard to let go, the best kind to buy!

---

A Natural Moon • Aka Kruz

Raised by the Salmon's: http://salmondracing.webs.com/




Deep Sun
T0055344
Ettabo
0500231
Etta Leo
0074195
A Natural
1463779
Moon Deck
0163343
Moon Spun
0846051
Mable Chick
0157868
A Natural Moon
Moon Deck
0163343
Moon Spot It
0757402
Little Bor-AX
T0059650
Windys Gold Moon
1885289
Old Pueblo
T0062141
Windy Pueblo
0500659
Hijo Anna
0154963


Sire "A Natural"

Dam "Windy's Gold Moon"

---

Royal Canth Miss • Aka Gracie

2012 Canadian Cowboy Association Finals qualifier
2012 Manitoba Rodeo Cowboys Association Finals qualifier
Winner of the MRCA Saturday night rodeo performance - VIEW VIDEO!
2012 Kyle Rodeo Champion
2012 Estevan Rodeo Champion
2012 Double B Rodeo Champion
2012 Sandhills Rodeo Champion
2012 SBRA Winner of the 1st Go-Round (Finished 3rd Overall)- VIEW VIDEO!


2011 Cirlce S ranch/Todd Stiles Memorial Barrel race Long-go and short-go Champion

First Down Dash
2241706
Royal Quick Dash
2822395
Harems Choice
2573257
Toms Royal Dash
3653415
Ramblin Rumble
2340711
Kristels Special
3062934
Lady Antiquity
2614404
Royal Canth Miss
4635026
Raise Your Glass
T0118794
Canth
2211260
Ever Hopeful
0869251
Canth Miss
2616133
Fantastic Native
1153615
Could Be Fantastic
1672219
Dog A Long
1172167