---
In the News: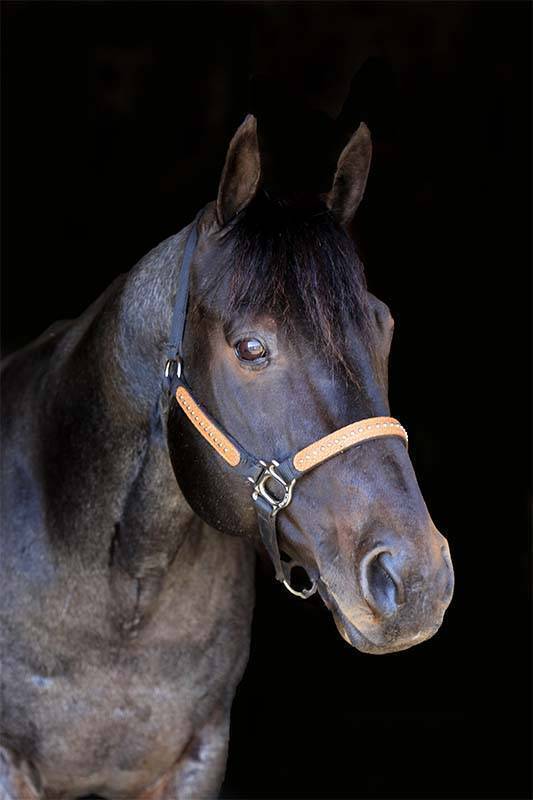 #1 Western Fortunes SR Stallion of the Year BF Streakin Merridoc

#1 Western Fortunes Breeders of the Year Alistair & Erin Hagan

#1 Western Fortunes Broodmare of the Year Baileys Tiny Charger

#4 Western Fortunes Leading Offspring of the Year Hagans Tiny Fling

#1 PE Quebec Stallion of the Year BF Streakin Merridoc

#2 Canadian Barrel Horse Incentive Stallion of the Year BF Streakin Merridoc
---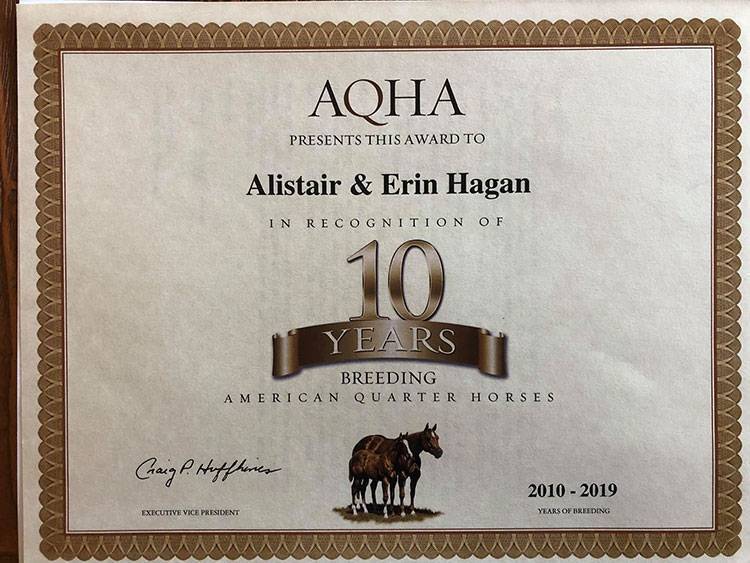 This year we received our 10-year AQHA breeders' certificate. Although our program is very small, we are extremely proud of how far we have come in 10 years! We look forward to continuing to work toward creating our ideal horse.
---
In the News: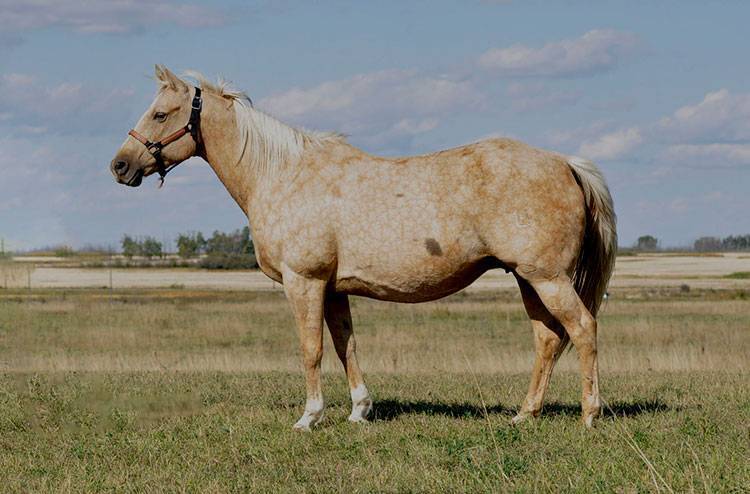 ---

Bailey is one of our original broodmares; part of our original plan. To breed mares we have ridden and liked, mares that worked for us. She was pretty, yellow and correct. Like many of our others she started her career off as a ranch horse doing all aspects of ranch work then moved into the arena. Bailey was a fun heel horse and had a great foundation on the barrel pattern. She was tough, gritty, very brave and extremely trainable. She was all heart!!! At the time we had a young family and simply put we were needing more mares to breed. Bailey was and still is the perfect fit for our broodmare band, she is extremely fertile and his given us a baby each year she was bred and now for the first time this year her first ever filly. We have loved riding and watching all of her colts so far, they all have her grit, forward motion and character!!

She is the Dam to *Hagans StreakNBailey 2013 Palomino gelding aka Ruger (1D/ Rodeo money earner owned by Rebecca Miller)

*Hagans Tiny Fling 2014 Chestnut gelding aka Stinker "WESTERN FORTUNES 2021 #4 LEADING OFFSPRING" (2X True Grit Derby Champion, Dash For Cash Derby Champion and finished money earning Head horse) owned by the Hagan family LTE $7,500

*Hagans Charger Fling 2015 Buckskin gelding aka Whiskey (Calgary Stampede Qualifier, Rodeo/Superstakes Futurity & Derby winner) owned Julie and Vanessa Leggett LTE $30,000

*Hagans Jet Fling 2016 Palomino gelding aka Viper (Futurity 1D money earner) owned by Janet Moen LTE $2700

*Hagans Tiny Streaker 2017 sorrel gelding aka Bubba owned by Charla Nikkels

*Hagans Flings R Pac 2018 Palomino gelding aka Parker owned by Joanne Fisher

*Hagans Sir Charger 2019 sorrel gelding aka owned by Taylor Manning

*Hagans Streakin Alibi 2020 palomino gelding owned by Kirsty White

*Hagans Miss Winsalot 2021 palomino roan FILLY! Owned by the Hagans

All of these babies are sired by BF Streakin Merridoc

When you look at this line up this cross is just getting started!
---
Introducing BF Streakin' Merridoc
---
Introducing Our Newest Stallion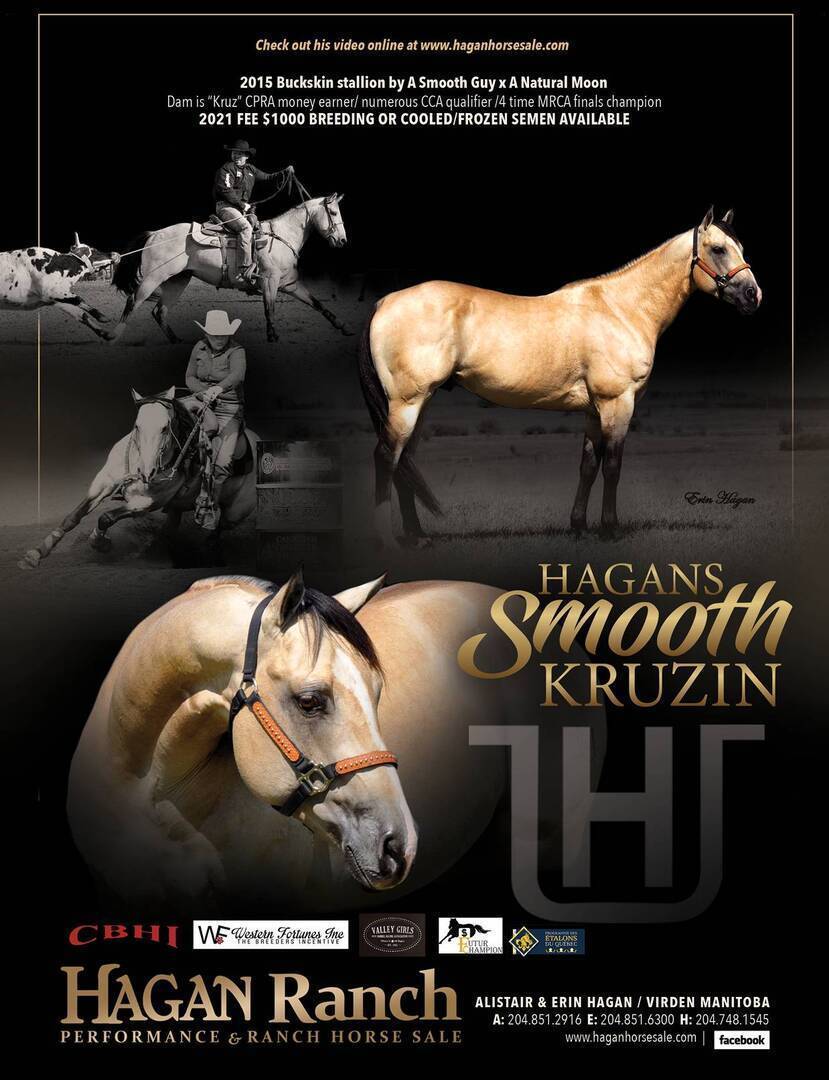 Click Here For Video
---
Oak Lake-area family receives National Blue-winged Teal Award for protecting land
By: Uncredited
Posted: 06/20/2017 3:00 AM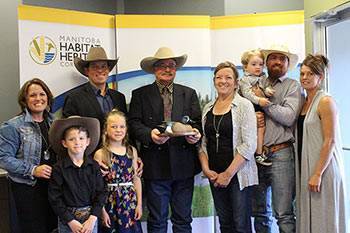 MICHAELA SOLOMON/THE BRANDON SUN

The Hagan family of Oak Lake accepted the National Blue-winged Teal Award at the Manitoba Habitat Heritage Corporation's Brandon office on Monday night. MHHC nominated the family to honour the 15 conservation easements they have to preserve and protect their land. From left: Erin, Alistair, Shawne, Jocelyn, Rory, Thomas and Felicity. Front: Slade and Harley.

Pride was in the air on Monday evening as three generations of the Hagan family were presented with the North American Waterfowl Management Plan's prestigious National Blue-winged Teal Award.

The Hagans, who live on a farm near Oak Lake, were nominated by the Manitoba Habitat Heritage Corporation in honour of the 15 easements the family has that permanently protects 4,885 acres of natural lands, including 2,020 acres of wetlands.

"The easements insure that their land will permanently stay in the condition that it's in," MHHC spokesperson Stephen Carlyle said.

Carlyle said that Hagan family has had an outstanding relationship with MHHC for years, and he hopes this award inspires other landowners to follow suit, and take extra precautions to preserve the land they own.
"Their natural areas will stay natural in perpetuity, so forever," Carlyle said.

MHHC is pleased to continue working with the Hagan family, said Carlyle, adding that they've been a great addition to a larger international conservation community.

The Hagan family consists of parents Shawne and Jocelyn, their four children, Alistair (Erin), Thomas (Felicity), Amanda, Bronwen, and grandkids Harley, Slade and Rory.

» The Brandon Sun
---