2006 Bay Roan Stallion








2023 Breeding Season


$1,500 LFG
Cooled/Frozen semen available
Limited on farm mares
EVA negative 5-panel tested N/N



Stallion Incentives



CBHI , Western Fortunes, Valley Girls, PEQuebec, Futur Champion,
The Breeders Elite




---

Alistair and Erin Hagan Virden Manitoba 

Alistair Cell 204-851-2916 Erin Cell 204-851-6300

---
---
| | |
| --- | --- |
| Please contact with current offspring for sale or refer to Facebook | |
Easy Six AAA si 97 $198,740
Easy Jet AAAT si 100 $445,723
Streakin Six AAAT
si 104- $473,934
Miss Assured AAA si 95
little Request (TB))
A Streak of Fling
AAA si 98-$27,645
Fast Fling AAA si 98
Calamity Jones
Moon Fling AAAT 
si 102 $69,507
Moon Beam Lady
Lady Bugs moon AAATsi 100- $191,536

BF Streakin Merridoc

Tiny's Gay
Tiny Watch x Gay's Delight
Merridoc si 102
Sparkling Tip
Diamond Charge x Tiptoe Tune (TB)
Winnsboro AA
Dash For Cash
Rocket Wrangler x Find a Buyer (TB)
Woodsboro
Chick's Dimple Too
Three Chicks x Dimples Too
We are so proud to own such an outstanding Stallion! BF Streakin Merridoc (aka Merri)  has touched our lives with his gentle and willing deposition. He is correct, athletic, easy moving,  cowy, and very attractive.  Merri loves people, he is easy to work with and eager to please.  His first foal crop was born in 2010 and he is STAMPING his babies with all the qualities that he possesses.

Merri is by the great A STREAK OF FLING SI 98; #3 Leading Sire of Barrel Horse Money Earners; progeny earnings in excess of $2.5 million+. He has sired the 2016 "The American" Barrel Racing Champion, "The American" Qualifiers; NFR Qualifiers; CFR Barrel Racing Champion; High Sellers with PROMISES TO STREAK in 2014 for $114,000.00 USD and A STREAK OF SCARLETT in 2015 for $100,000

Dam: Winnsboro – AA by Merridoc SI 102; Sire of 808 ROM earners; 58 Stakes Winners; Progeny Earnings $13,474,507.00!!
---
In The News
:

Although Merri has a very limited number of foals that are of competing age we are starting to see some really awesome results!! 
We continue to enjoy the process and look forward to the future!
Hagans Charger Fling (BF Streakin Merridoc X Baileys Tiny Charger)
owned by Julie and Vanessa Leggett
LTE $ 30,000 + LTE 2021
This Duo had an amazing year once again! One of their highlights was a qualification to the Greatest Outdoor Show on Earth… The Calgary Stampede! This team continue to dominate in the derby and rodeo world. Winning SuperStakes money once again!
2020
What a year this 5 year old had!! He showed us that he has what it takes to be a great one. He placed at numerous big Futurities and barrel racings all summer and finished the year off with running the 8th fastest time out of all the CBHI Super stakes futurity colts for a total of $3245!!! He played a part in helping his dam win #5 leading Broodmare of the Western Fortunes.
Hagans Tiny Fling 2014 chestnut gelding (aka Stinker)
(Merri X Baileys Tiny Charger )
Stinker at the Prestige slot race

Stinker at the True Grit 2020 Derby

Stinker at the True Grit 2020 Derby 2nd run

Stinker placing high in a round at the MB Team Roping Futurity as a 5 year old

Stinker winning run as a 5 year old


Stinker is an easy going gelding with a big stride. He is right on track for his barrel/rope horse futurity year.

Hagans Tiny Fling had an outstanding year and showed us just how much he wants to be a winner!
He was crowned the 2020 True Grit Derby Champion and won us a beautiful buckle and $2,200!!
Then he ended off the year at the Yellow Rose Futurity and Derby weekend winning other buckle in the open for us!
We look forward to 2021 were he will make his debut at the Junior High School rodeos with Harley.
Hagans Prissy Fling 2016 bay mare
(BF Streakin Merridoc X Frenchmans Mistee by Frenchmans Guy)
Hagans Prissy Fling 1st competitive run at the Crackout Futurity!
Haddie as we call her, is the most easy going and loving mare! She placed 2nd at the Crackout Futurity on November 15th. (Hers and mine 1st competitive run together)
I sold this filly as a yearling in the CBHI sale at Ponoka to Megan Blais. When Megan gave me the chance to buy her back this year I jumped at it! Thank you Megan! You gave her a great start and I'm enjoying having her back in my pen!
This mare is for sale and we will continue to season her until she sales!

Hagans First Winner 2010 Brown mare (aka Rainie)
(Merri X Runaway Tops by Sammies Runaway )
2021 Highlights

Rainie and Harley pulling a cheque at their favourite MRCA rodeo 2019 Austin, MB

Rainie and Harley making a sweet barrel run

Rainie and Harley winning run at South Country 2020

Rainie and Harley making a nice Pole run

Every year this mare keeps adding to her resume! She started her career off with running the FASTEST time out of all the futurity horses at the 2015 MBRA Finals. Now you can find her at every Junior High School rodeo with our daughter Harley Mae. These two make an amazing team and show no signs of slowing down.

Their resume together:
LTE $20,000 +
2021 CBHI 3rd overall Youth Year End Team
2021 MHSRA Barrel Racing Year End Champion
2021 MHSRA Barrel Racing Finals Champion
2021 MBRA Reserve Youth Barrel Racing Champion
2020 South Country Jr Barrel Racing Champion
2020 NJHSRA Finals Qualifier in the Poles and Barrels
2020 Jr Pole Bending Champion MHSRA
2020 Jr Pole Bending Finals Champion
2020 finished 3rd overall in the MHRSA Jr Barrel Racing
2019 NJHSRA Finals Qualifier in the Poles and Barrels
2019 Jr Pole Bending Finals Champion MHSRA
2019 Jr Barrel Racing Finals Champion MHSRA
2019 Jr Rookie of the Year MHSRA
2019 Six Shooter Jr Barrel Racing Champion
2019 True Grit Junior Champion and Hi-Point Champion
2019 MRCA Junior Finals qualifier
2018 Short-Go finalist at the MBRA Finals

2015 ran the FASTEST time out of the futurity colts at the MBRA finals. She continues to run 1D times and has moved into her rodeo career! Slade (our 7 year old son) ranched on her this year and told us he is going to maybe make her into his horse !

May Fling First
2017 bay roan stallion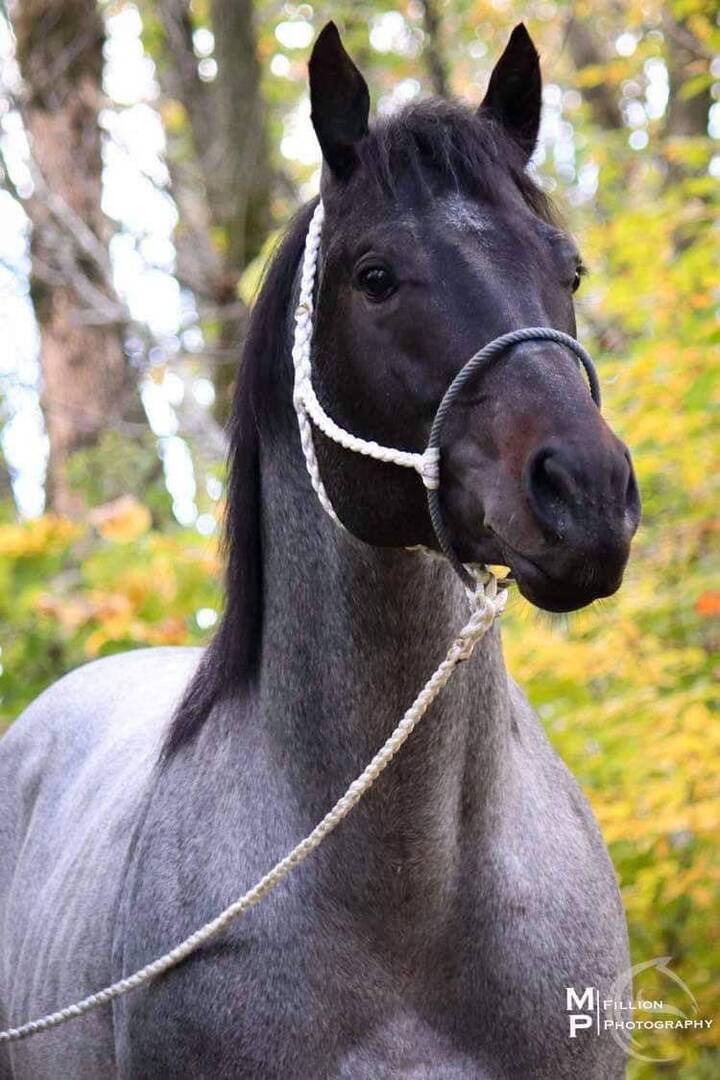 MAY FLING FIRST SIGN
2017 bay roan stallion
LTE $75,000+


Highlights:
2021 BBR OKC Futurity Finalist
2021 Quebec Triple Crown Breeders Cup Futurity & Slot Champion
2021 MFA Sorel July Futurity & Slot Champion
We would like to congratulate Yann Tremblay owner of "May Fling First Sign" a 2017 bay roan stallion sired by BF Streakin Merridoc and out of Furshur by Fishers Dash on a great showing at the 2020 Barrel Futurities of America in Oklahoma. "May Fling" and his talented jockey Caroline Boucher (2020 Pink Buckle Champion) finished 37th place out of 357 horses with their first lifetime competition. The duo then went on to the 2020 Futurity All In Barrel Race held in Texas and recieved7th place (ranked 2nd in the horses born in 2017). This class included Futurity horses born in 2015, 2016 & 2017!

Yann Tremblay has been such a great supporter to our program and we are so excited for the future of this young stallion!
Hagans First Fling aka Sophie 
2013 grey mare
(BF Streakin Merridoc X Runaway Winner)
Sophie was one of the 1st colts that we sold in our Hagan Performance and Ranch horse sale.

She went to Pam Leduc & family of High River, Alberta. They are currently using her at the High School rodeos and she is helping build confidence in their daughter Desi. Keep up the great work Desi!
Last time I talked with Pam she stated "Great mare miss riding her as Desi doesn't let me ride her much anymore. Love how much power she has along with being a kind sensible soul."
Hagans Tiny Streak Streaker 15 HH aka Bubba
2 year old sorrel gelding
Click Here For Video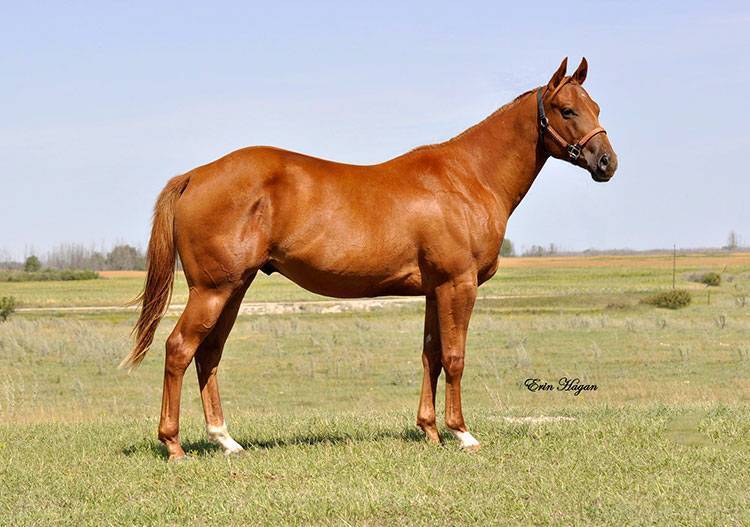 This cross works plain and simple. We are extremely proud of this guy as he is probably the best looking of his 6 full brothers. All of his older brothers are being ridden and doing very well. Ruger his 7 year old (palomino) is a 1D barrel horse. Stinker aka Hagans Tiny Fling is his 5 year old chestnut brother and by far Erin's favorite horse on the ranch. He is our personal futurity horse both barrels and heading. Stinker won the 2nd round of the True Grit Barrel Futurity, placed at the MB Rope horse Futurity and is clearly showing potential that he can handle any situation you through at him. Stinker will be added to our rodeo/high school rodeo string next year. The 4 year old full buckskin brother belongs to Julie Leggit (CFR qualifier) and loves him! The 3 year old (palomino) was in last year's sale and sold to Janet Moen (CFR qualifier) of Stewart Valley and speaks highly of him. He also has 2 younger brothers at home. Their mother was a finished barrel horse/ranch horse that we rode extensively and added to the broodmare band at the start of our career. She was good enough to stay ridden for the rest of her life and is still sound but we were committed to adding good mares which we had ridden to the broodmare band. We are proud to say that plan has worked, her babies off BF Streakin Merridoc are bigger strided, nicer movers than her but all have her grit and determination. You gotta love it when a plan comes together. I started this well balanced, correct gelding under saddle at home and then sent also to our good friend Shane Brown for a month's riding. He is CBHI, Western Fortunes, Valley Girls and The Hagan incentive.
We had this 3 year old catalogued in our sale last fall but he end up hurting himself right before the sale and so he sadly had to stay home while everyone else went to town. Guess Everything really does happen for a reason??!!
I'm so excited to bring this colt along!!! So much natural talent with this cross! I told Alistair yesterday; I think these are my horses (all of them)
This is "Hagans Tiny Streaker" aka Bubba
(BF Streakin Merridoc X Baileys Tiny Charger)
Baileys Tiny Charger made the 2020 Top 5 Leading broodmares for the Western Fortunes Inc. She has proven that her babies all have the desire to win!
Hagans Streakin Val 2012 Blue roan mare (aka Sister)
(Merri X Kits Dashing Val by Kits Moon Shadow)
Click Here For Barrell Video
5th out of 130 last weekend with a
14 year old riding her!
#4 WINNER of an 8 run winter series
Hagans Major Fling 2012 bay roan gelding ( aka George)
(Merri X Poos Presciption by Prescribed by Major)
Kelsey just purchased George this spring with 90 days on him and look how far they came in such a short of amount of time!! She had her work cut out for her but they made it to the CBHI weekend to show him in his futurity year! Very impressive!

Hagans Streakn Bailey 2012 palomino gelding ( aka Ruger)
(Merri X Baileys Tiny Charger)
Click Here For Video
Although Ruger had some set backs with injuries getting him to his 5 year old year it doesn't look like he is going to let that slow him down in life. He showed consistent placing in the 1D all summer!! Keep it up Ruger & Joy!!